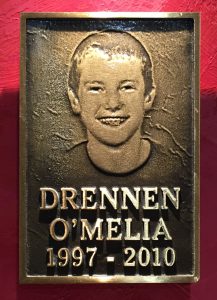 Our dear Drennen Peter O'Melia died on June 6, 2010.  While we will always grieve the loss, he left our hearts filled with lessons about how to live life to the fullest and to love with no boundaries.
Drennen had just finished 6th grade at Powell Middle School when he passed away at age twelve.  Anyone who knew Drennen witnessed his charisma, sense of mischief, and his zest for life.   He participated and excelled in many sports including Panther football, swimming team, basketball, snowboarding, and golf.   A member of St. Timothy's Episcopal Church, Drennen loved attending the youth group.  He regularly took friends, new and old, to various youth group activities.  Drennen also loved Wyoming, where his mother and grandparents are from.  He was an avid fan of Wyoming Cowboy football and basketball and looked forward to regular visits to his family's cabin in northern Wyoming where he fished, camped, rode four-wheelers, and hiked.  Drennen was a bright boy who loved to share trivia, listen to music, read, and play games of all kinds.
Drennen's father, Bill, his mother, Melissa, his two brothers, Quinn and Sean, and all others who knew him miss him very much.  We are all blessed to have known Drennen for his twelve years and we are continually amazed as we learn about the many, many ways in which he left his imprint in this world.  After his death, and through cards, letters, phone calls, and visits from friends and strangers, Drennen's family learned of the ways that Drennen loved, dreamed, helped others, and lived life to the fullest.    Drennen was a spark and we will keep his fire burning bright through Drennen's Dreams.