Exciting News! We are offering two virtual fundraising events. The '10 For 10′ virtual reception fundraiser is August 1, 7:00pm-8:00pm. Participants will visit our reception webpages and enjoy a virtual silent auction, entertainment, post photos or videos, chat will Bill and Melissa O'Melia in our Zoom room and more!  CLICK HERE to enter our Virtual Reception rooms and donate.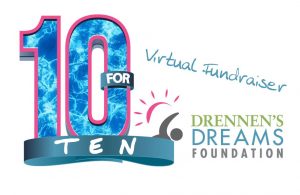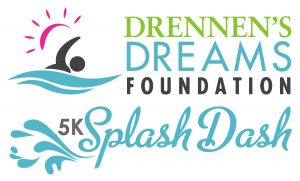 CLICK HERE to Register now for the 2020 SplashDash 5K Run/Walk
Sunday, August 2nd, 2020
This will now be a virtual event. Run between July 19-August 2 and post your time. Race results will be posted by 10:30am August 2
Registration: $35 ages 11 or higher, $20 ages 10 and under
CLICK HERE to register for the 8th Annual Drennen's Dreams Foundation Splash Dash. The event is a virtual 5K now. We are a family friendly and all ages are welcome to participate. All registrations include a collectable Drennen's Dreams 'buff/fandana'. Join us for this great community event supporting a great cause!